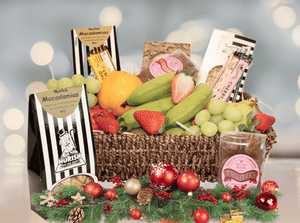 Festive Swan Valley Treats - Free delivery Perth
Regular price $139.99 Sale
A delicious festive gift offering a mouthwatering artisan taste adventure of fresh fruit and local traditionally made produce from the Swan Valley.
Morish Macadamias with caramel coating 80g

Internationally renowned for their deliciously mouth watering flavour and irresistible "crunch", Australia's native Macadamia is the King of the Nuts. 
Morish Peanut Crunch 250g
Selected Australian popcorn and Peanuts smothered in a rich caramel with a generous sprinkling of coconut. Creating a luscious, tropical, Morish Crunchy Flavour. 
Whistlers Gift bag of White Chocolate Buds 100g
Western Australia's oldest chocolate company and has become an iconic brand representing quality and good old fashioned traditions.
Whistlers Milk Chocolate Rocky Road Bar
Handmade Rocky Road With marshmallows, Turkish delight and almonds
Multi award winning Mondo Nougat 
The world's finest nougat using the Australia 's finest ingredients traditionally made in the the Swan Valley.
Mondo Cherry Infused 45g Soft Nougat Bar
Mondo Honey & Almond 45g Soft Nougat Bar